The sweat glands are as common and frequent in the face as on hands and feet. In addition to high temperature and stress, these sweat glands can also be triggered by for example spicy food.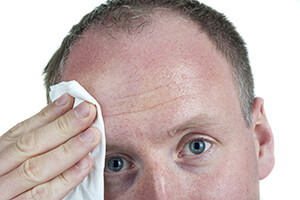 Since facial sweating is difficult to hide, it is often socially disabling. It can also cause more direct and tangible problems however, like sweat dripping down onto papers and tools or into the eyes.
Other people could also interpret facial sweating as a sign of weakness or nervousness, which can be a problem in negotiations or situations when you want to create trust.
Dermix Absolute Dry Wipe can be used for treating facial sweating etc. Since the skin on the face and forehead is more sensitive, it is recommended to first try on a small area. The wet wipe itself makes application easier and since the amount of liquid normally is reduced compared to using the dab-on bottle, it can also be perceived as more gentle to the skin.