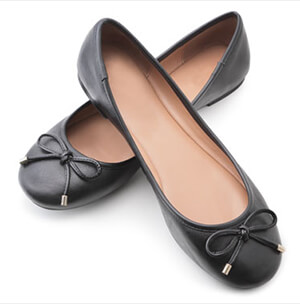 Many of us wear shoes more or less all day long, at work, in school, while traveling etc. If you want to avoid sweaty feet, worrying about taking the shoes off in front of others, freezing cold damp feet during winter or ruining the new, chic summer shoes, Absolute Dry Wipe is the perfect solution!
There are a number of things you can do to keep your feet dry and your shoes fresh and dry, for example using breathable socks and avoiding shoes made of synthetic materials. However, sometimes you simply want to go barefoot in your new ballerina shoes or wear those warm winter boots despite spending part of the day in a bus or train. Or you just want to avoid worrying about sweaty and smelly feet, regardless of your choice of socks and shoes.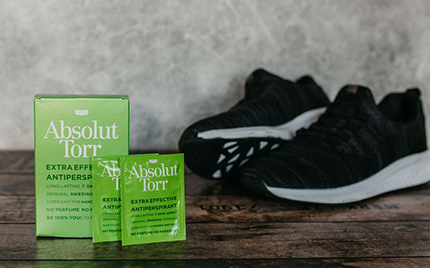 Absolute Dry Wipe is a wet wipe with exactly the same liquid as the classic dab-on bottle, but in a more convenient format for areas of application. Wash and dry the feet thoroughly, in the evening. Apply Absolute Dry by wiping the skin with a wet wipe – one wipe is normally enough for both feet. Let dry. To avoid getting residue on floors and sheets, you can wear thin, hardy socks. Wash the feet (or shower as usual) in the morning and you are set to go!
Bare in mind that the skin on hands and feet is thicker, which may shorten the efficacy of Absolute Dry somewhat compared to use on the rest of the body. Apply Absolute Dry once a week or more often if needed. It can be beneficial to use Absolute Dry more frequently in the beginning and then sparse out the applications.
Remember never to flush down Absolute Dry Wipes in the toilet and be careful where you place the wipe, since the liquid can stain, discolor or damage certain surfaces, for instance metal.
Smart tips for fresh and sweat free feet:
Wash the feet thoroughly every day and do not forget the skin between the toes.
Use shoes made of leather or canvas. Avoid synthetic materials. Wash the shoes if possible (like sneakers) and use several different pairs of shoes, to ensure the get completely dry before next use.
If possible, use breathable indoor shoes during workhours.
Use socks in natural materials like cotton. Synthetic materials retain the dampness, preventing the skin to breath.
You can also use a thin absorbent terry insole in the shoe, that is easy to replace or wash when needed.
Use Absolute Dry! By using Absolute Dry Dab-on or Wipe on your feet you avoid having to worry about sweaty feet or ruined shoes, just like you do for other parts of your body.